Want to get involved? Ready to volunteer or foster?
PLEASE NOTE: WE ARE LOCATED IN THE ROYAL PALM BEACH & WELLINGTON AREA. YOU NEED TO HAVE YOUR OWN TRANSPORTATION AND BE WILLING TO ATTEND ORIENTATION IN THE AREA TO VOLUNTEER. FOSTERS MUST LIVE IN PALM BEACH COUNTY.
Thank you for your interest in volunteering with us! As an organization that is run entirely by volunteers, we are always in need of new people to join our team because each new volunteer brings the opportunity to save more lives.
Below a list of our current volunteer needs. Whether you'd like to spend one Saturday a month volunteering, several hours a week, or anything in between, we would appreciate your help.
NOTE: opportunities for students or others seeking community service hours are available.
Foster Home – This is our #1 need! We need more foster homes for our kitties at all times. The majority of our kitties are in foster homes until they are adopted. Each new foster home opens up more space for us to rescue another kitty and save another life! As a foster, you are responsible for socializing and caring for the kitty and transporting them for medical care and events. We pay for their food, medical care, etc. NOTE: foster homes must be located in Palm Beach County.
In-Pet Store Kitty Care – To increase their chance of adoption, we house some of our kitties in the Pet Supplies Plus Store in Royal Balm Beach for brief periods of time. Because the pet store is not responsible for them, we must have responsible and dependable volunteers to care for and love them while they are waiting for their furever homes. Volunteering in a store requires a few hours of your time once a week. You will be cleaning cages, scooping litter boxes, talking with potential adopters, playing with and loving on the kitties, and giving them time out of the cages. The kitties will look forward to seeing you every week! NOTE: high school students 16 and younger may volunteer, but must be accompanied by a parent.
Event Volunteer — Events are usually held twice a month and are mostly located in Royal Palm Beach or at other PBC locations. Responsibilities include setting up, helping with kitties, keeping an eye on our space at the event, and talking with the general public. If you are a student seeking community service hours, this is the option for you.
Volunteer Recruitment & Coordinator — If you enjoy interacting with people and have a desire to devote yourself to a long term volunteer position, this would be a good option for you! Responsibilities include keeping track of available foster homes and the animals within those homes, making sure that the needs of foster parents are met, troubleshooting any issues that may arise within the foster homes, doing home checks for new fosters, and finding new foster homes. This person will also be responsible for recruiting and training new volunteers and managing volunteer communications. We need someone to be the point of contact for all volunteers, new and old, to make sure events are staffed, and to communicate with and train anyone who may be interested in volunteering. This role is critical to our mission of saving the lives of kitties! The Volunteer Recruitment Coordinator must be 18 or older.
Fundraising Coordinator — We are looking for someone to focus solely on fundraising and obtaining donations from individuals and local companies. We want a person who is positive, social, full of ideas, and not afraid to get out there and talk to people to make things happen. Experience in the realm of fundraising would be great! This position is for someone who has the time and desire to devote to helping us reach our goals and save more kitties.
Grant Writer – if you have experience writing and submitting for grants, you know how vital and impactful this role is to organizations like ours. If you have time to volunteer in this role, you will directly contribute to helping us save more and more kitties than ever before. We would love to hear from you. The Grant Writer must be 18 or older.
Bookkeeping — Another long term volunteer position! We need a dependable, organized, and dedicated volunteer who can help us maintain our accounting and financial records for our 501c3 organization. No experience necessary. As you probably know, this won't take a huge amount of time, but it's absolutely crucial to our ability to save lives.
Office & Clerical Admin — Another long term volunteer position! We need a detail-oriented person with a little extra time to spare. Most tasks are simple and help with the day-to-day operations of a 100% volunteer kitty rescue.
Transporting Kitties — Our kitties need to be safely transported to and from the location where they receive medical care. So, if you have a few hours a week and dependable transportation, this volunteer opportunity is perfect for you! This need requires someone who lives in Palm Beach County, as most of our kitties are in foster homes in that area.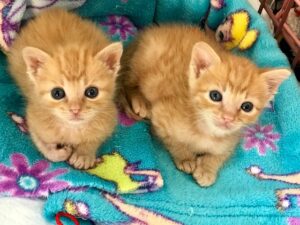 Whatever your situation, we welcome your help.
So, if you have it in your heart to help us rescue kitties, please reach out by filling out the form. Who knows? It could be the start of a rewarding relationship – helping kitties in need and enriching your life with new friends – furry and otherwise.
Fill out the volunteer form below