Want to get involved? Ready to volunteer or foster?
PLEASE NOTE: WE ARE LOCATED IN THE ROYAL PALM BEACH & WELLINGTON AREA. YOU NEED TO BE CLOSE BY AND HAVE YOUR OWN TRANSPORTATION TO VOLUNTEER.
There is no one size fits all for volunteers. Here are some of the ways you may be able to help:
FOSTERS: You have a small room in your home where you could keep a foster kitten (or entire litter) safe and warm and help socialize them. We will provide all the food and supplies! (PLEASE NOTE: fostering is temporarily volunteering to house and socialize an animal. If you become interested in adopting a kitty you foster, you must go through the usual adoption process and pay the adoption fee.)
TRANSPORT: You have a car big enough to transport a couple of cat carriers to and from a vet visit or adoption event.
SOCIALIZATION: You have enough time in your day to socialize kittens who may otherwise grow up a bit too shy or a little too wild. They need to be played with and held and interacted with every day so they will become snuggly and adoptable.
COMMUNITY SERVICE FOR HIGH SCHOOL GRADUATION: You're a high school student who needs community service hours, and you have some time to socialize kittens to get them ready for their forever homes. You'll get school-verified community service hours you can use towards graduation, plus you get to play with kittens!
CLERICAL & BOOKKEEPING: You're a detail-oriented person with administrative and/or bookkeeping experience, with a little extra time to spare. We need help with the day to day administrative tasks that come with running a 100% volunteer animal rescue.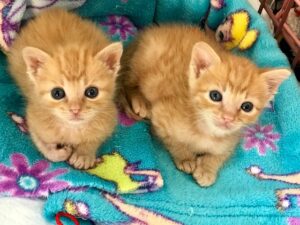 Whatever your situation, we welcome your help.
So, if you have it in your heart to help us rescue kitties, please reach out by filling out the form. Who knows? It could be the start of a rewarding relationship – helping kitties in need and enriching your life with new friends – furry and otherwise.
Fill out the form below to contact us. Please tell us a little about yourself and how you can help.